Pitch Evaluation Sheet
You're sitting in the jury hot seat and need to give a business idea the "go" or "no go". This tool will help you decide which pitch to give the green light.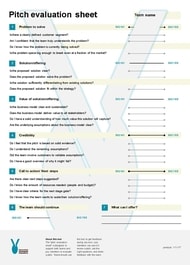 The pitch evaluation sheet is a tool designed to support both teams making a pitch and jury members  evaluating a pitch.
Teams should use this tool to get feedback during dry-runs. Jury members can use it to review a pitch, ask the right questions, and share valuable feedback with the team.
STEP 1
Ask one team member to do a dry-run of the pitch while the others use the pitch evaluation sheet to provide feedback (10 min).
Tip: Invite colleagues who have not been involved in order to avoid confirmation bias and to get an honest opinion. If you know somebody who will be critical of your idea, definitely invite him/her as well.
STEP 2
Review the evaluation sheets individually by passing them around (10 min).
STEP 3
Have a group discussion about the results and on how you can improve your pitch (20 min).
STEP 4
Agree on what needs to be improved in the first draft and divide roles and responsibilities (5 min).